We'll be here when you need us most.
As pet owners ourselves, we understand the important role your pet has as a member of your family. Our goal is to keep that bond a happy and healthy one for years to come. We welcome you and your companion animal to join our family at The Animal Hospital.
Proudly AAHA Accredited
We've been an American Animal Hospital Association (AAHA) accredited facility since 1977, The Animal Hospital regularly undergoes evaluations to ensure that we meet AAHA's standards of care.
This accreditation is voluntary and we chose to undergo this process to demonstrate our commitment to the highest standards of veterinary care for our patients and clients. AAHA standards are recognized around the world as the benchmark for quality care in veterinary medicine.
Dr. Paul Veralli
Medical Director, Veterinarian
Dr. Paul Veralli has always had a deep-seated passion for animals thanks to the dogs and cats his family kept while he was growing up. By the time junior high rolled around, Dr. Veralli's interest in science was blossoming. For him, a career in veterinary medicine was the perfect way to mix his fascination of science with his long-standing adoration of animals!
Dr. Veralli grew up in an Italian family in Mamaroneck, New York. After attending Dartmouth College in New Hampshire, he studied at Oregon State University before completing his veterinary degree at Cornell University's College of Veterinary Medicine. Dr. Veralli practiced veterinary medicine for many years in Massachusetts, Vermont, and Colorado before arriving here at The Animal Hospital in a relief capacity. After a year and a half, he took the opportunity to become the facility's owner and Medical Director.
Dr. Veralli and his wife have five grown children and four wonderful grandchildren. They share their home with a Shih Tzu named Ebony and a Lhasa/Shih Tzu mix named Winston. When he isn't spending time with his family or tending to the needs of pets here at The Animal Hospital, Dr. Veralli likes biking, hiking, gardening, and enjoying food and wine.
Dr. Donald Dreyer
Veterinarian
Dr. Donald Dreyer is an Associate Veterinarian and former co-owner of The Animal Hospital. A native of Hay Springs, Nebraska, he has called Colorado home for the past 45 years.
Dr. Dreyer received his Bachelor's degree from Dana College in Blair, Nebraska before earning his Doctorate of Veterinary Medicine from Colorado State University. During school, he was awarded an honorary title from the Alpha Chi National Scholastic Honor Society and was listed as a Who's Who Among Students in American Colleges and Universities.
Dr. Dreyer's professional interests include dermatology and quality client relations. In addition to his memberships in the American Veterinary Medical Association and the Colorado Veterinary Medical Association, Dr. Dreyer has been an active member in many Longmont associations throughout the years. The list includes the Longmont Humane Society, the Longmont Chorale, the Longmont Symphony Orchestra, and the Longmont Rotary Club!
Dr. Dreyer and his wife, Leslie, live in Longmont. They have four children and several grandchildren. A previous owner of dogs, birds, and rabbits, Dr. Dreyer now considers his clients' pets as his own.
Dr. Katie McCullough
Associate Veterinarian
Dr. Katie McCullough grew up in the Chicago suburbs with five older siblings and plenty of dogs and cats. Her mother and grandmother were staunch pet-lovers themselves, and always took in animals in need. Dr. McCullough learned early on in life the true importance of our animal companions. For her, helping pets live happier, healthier lives is a dream come true!
Dr. McCullough attended DePaul University in Chicago to earn her Bachelor's Degree in biology, along with a minor in Spanish. After gaining hands-on experience in the world of animal care by working as a veterinary receptionist and assistant in the city, she continued on to veterinary school at Colorado State University's Colleg of Veterinary Medicine and Biological Sciences.
Dr. McCullough graduated with her Doctorate of Veterinary Medicine in the Spring of 2016, then moved to Las Vegas, Nevada to launch her professional career. Recently, she moved back to this area to look for a family-oriented veterinary practice that put the health and happiness of animal companions first. The Animal Hospital was the perfect fit! Dr. McCullough is proud to serve as an Associate Veterinarian with the clinic team. She has a particular passion for x-ray scans and ultrasound work and the way these techniques give her the necessary information without the use of invasive procedures. Most of all, Dr. McCullough loves meeting the wonderful pets and animal owners of the Longmont area.
In her time away from the hospital, Dr. McCullough can be found spending time with friends, trying out new restaurants in the area, hiking, or relaxing with a good novel. She shares her life with three pets of her own: Brody, a quirky mixed-breed dog, a Labrador Retriever named Emma, and an aging cat named Skippy.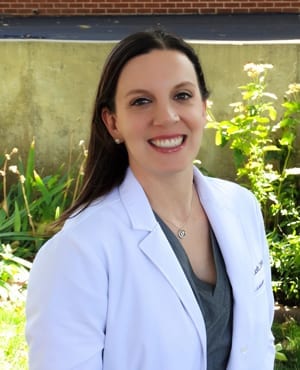 Dr. Megan Brandt
Associate Veterinarian
Megan is an associate veterinarian with The Animal Hospital. She grew up in Houston, Texas. She completed her veterinary education at Texas A&M College of Veterinary Medicine. She is Fear Free Certified which a tremendous help to treat our furry friends. She wanted to be a veterinarian since the age of six. The idea of helping animals has been an integral part of her life since childhood. She currently lives in Niwot with her husband and one year old son. She moved to Colorado this year and is enjoying the hiking and skiing available in her new community. She also likes golfing, crafting and watching baseball. She is a huge anglophile and lived in London for a short time while in college.
Dr. Renee Nankervis
Associate Veterinarian
Renee rejoined our team in November 2018. She is originally from California. She did her undergraduate degree and Doctorate of Veterinary Medicine at Colorado State University. She enjoys spending time with animals and the challenge of science/medicine. In her spare time, Renee enjoys equestrian sports, quilting, and photography.
(Photo coming soon.)
Carla
Certified Veterinary Technician, Practice Manager
Carla used to work in the business field before making the decision to change careers. She wanted a job where she could utilize her strong client education skills, exercise her desire to help others, and spend time around adorable pets—the veterinary profession was the perfect fit! Now Carla is a Certified Veterinary Technician here at The Animal Hospital.
Carla grew up in North Dakota and first came to Colorado to attend Colorado State University. She enjoyed the area's weather and people so much that she decided to come back after graduating! She joined The Animal Hospital family in late 2014.
In her free time, Carla enjoys hiking, camping, boating, fishing, and spending time with her trio of rescued dogs.
Kim
Certified Veterinary Technician, Lead Technician
Kim has always known that she wanted to work in the healthcare profession, but it wasn't until she was in nursing school that she realized where her heart truly lay. Her life-long adoration of animals won her over, and she decided to become a veterinary professional!
Originally from Minnesota, Kim moved with her family to Colorado when she was 10 years old. She received her Veterinary Technician's certification in 1998, and joined the team here at The Animal Hospital in the fall of 2004.
The diversity of the job is Kim's favorite part of her work; no two days are ever the same, and she can't imagine doing anything else! She also loves making patients feel as comfortable as possible and working alongside her fellow staff members, many of whom are just like family to her.
Kim lives with her boyfriend, Scott, his twin boys, and her own two boys. The family shares their home with a pair of cats, Callie and Otis, as well as three dogs: Buster, a Jack Russell/Springer spaniel mix, Rottweiler mix Coco, and a Bluetick Coonhound/Yorkshire terrier mix named Cowboy.
Dani
Veterinary Technician
Danielle has felt a kinship with the earth's creatures ever since she was young, and always suspected that she would love a career in the animal care field. Now, she's been helping to improve the lives of pets as a veterinary professional for over 20 years!
Danielle grew up in Florida and relocated permanently to Colorado with her family in 2012 after first falling in love with the state during a snowmobiling trip in 2004. Her veterinary origins stretch back to 1995 when she accepted a kennel position before working her way up into a Veterinary Technician role. She became a member of The Animal Hospital team in the summer of 2016, and couldn't be happier to serve the pets and animal owners of the area alongside her skilled and caring coworkers. Danielle's favorite part of the job is being able to learn something new every day—no two shifts are ever quite the same!
When she isn't caring for the area's critters here at the hospital or spending time with family and friends at home, Danielle likes drag racing and other motorsports, snowmobiling, and enjoying the company of her own pets. She and her husband have three animal companions: a dog, Chance, and two rescued cats named Beck and Chevy who relocated from Florida with Danielle.
Rachel
Veterinary Technician
Rachel was born and raised right here in Longmont. Her animal care career began when she started helping out a local veterinarian; that's where she first met The Animal Hospital's very own Tabitha. When a position opened up here at the clinic, Rachel was more than happy to join the hospital team! She helps the area's pets and owners as a receptionist and Veterinary Assistant.
Around the clinic, Rachel likes to form lasting connections with pet owners and swap fun animal stories. She is also fond of veterinary dentistry. Her mother worked in the human dental field for many years, and Rachel now gets to use that background to better the lives of pets!
In her free time, Rachel can be found hiking, reading sci-fi novels, playing video games, and enjoying the company of her pets. She has a pair of cats, Bellatrix and Tinkerbell, a dog named Sarabi, four snakes, a crested gecko, and a pink-toe tarantula.
Brittany
Veterinary Technician
Brittany grew up in Colorado Springs. Since she was in elementary school, she loved animals. She always knew she wanted to work with them. Brittany would bring home any and all stray animals to give them a home or help them if injured. Brittany has two Alaskan Malamutes, Chevayo and Chetahna, plus two cats, Menace and Precious. Brittany has just welcomed twins to her family. She now has 3 boys and 1 girl. She is busy taking care of her family, taking them to school plus football and baseball practice. In her free time, Brittany likes to spend time with her family. She is an avid Broncos fan. She also likes to go on bike rides and to play legos with her sons. She is also a fraternal twin herself.
Melissa
Veterinary Technician
Melissa grew up in Arvada Colorado. She has always had a passion for animals, starting at a young age. Before she was even sixteen, she helped deliver 2 litters of puppies, a litter of kittens and treated a puppy with parvo virus at home. Melissa comes from a large tight-knit family and they have been very supportive of everything. She enjoys camping, fishing, hunting and cars. Melissa has a five year old lab mix named Remi.
Darlene
Receptionist
For Darlene, nothing is more satisfying than knowing she's helping a family take care of their beloved animal companion. As a pet owner herself, she knows firsthand how much joy these special friends can bring! Darlene has served the area's pets and owners here at The Animal Hospital since March of 2015.
At home, Darlene and her husband, Jerry, live with one dog. Phoebe Butterbean is a young Goldendoodle who enjoys holding hands and cuddling. She's also quite good at opening doors and bringing Darlene and Jerry their shoes!
Tabitha
Receptionist
Tabitha grew up in a small Oklahoma town, where her childhood dog, Hershey, was her constant companion. She learned early on in life exactly how valuable our beloved pets are. She's always wanted to do her part to give something back. As a veterinary professional, Tabitha gets to do just that on a daily basis.
Tabitha holds a degree in biology and has long been fascinated by plants, animals, and nature. She moved here to Longmont with her husband in 2011, and it wasn't long before she had signed on at another local veterinary hospital. After a year and a half, Tabitha jumped at the chance to join The Animal Hospital family in October of 2016, and she's been helping the area's pets here ever since.
When she isn't tending to the pets' needs here at the hospital, Tabitha can be found reading, gardening, working on home-improvement projects, and spending time with her family. She and her husband, Zack, live in Longmont with one pet, a betta fish named Sheldon.
Alicia
Receptionist
Alicia grew up in a small farming town in Minnesota, where animals were simply a natural part of life. She's never taken for granted the true value that pets provide for families, and has always wanted to act as an advocate for their well-being and healthcare. Alicia is able to do just that as a member of The Animal Hospital team!
Alicia moved to Colorado in 2013 and began working at another local pet hospital shortly afterward. It was then that she met Vicki, The Animal Hospital's very own Practice Manager, who convinced Alicia to join the compassionate and talented team here at the clinic. Alicia now serves as a receptionist, and particularly loves cuddling with adorable furry visitors and hearing wonderful stories from the area's pet owners.
Away from work, Alicia is an avid hiker—she recently climbed her first "14-er!" She also enjoys spending quality time with her family at home. Alicia and her husband share their lives with a stubborn Shih Tzu named Willy Wonka and an energetic Yellow Labrador puppy, Stout.
Madi
Receptionist
Madi grew up in Washington State. She attended college at the University of Colorado (Boulder Campus) with a degree in evolutionary biology and ecology. She grew up on a hobby farm with goats, horses, tons of cats and a dog. She is always around animals. She enjoys skiing, music, reading, birding, hiking and riding horses. Madi has a tight-knit family and all four siblings now live in Colorado. She has 2 cats (Elsa and Evvie) and a dog (Foxy). One thing that some people don't know about Madi is that she can play the fiddle.
Compassionate veterinary care in Longmont, Colorado.
Hours
Mon-Wed: 8:00 am – 6:30 pm
Thurs-Fri: 8:00 am – 5:30 pm
Sat: 8:00 am – 1:00 pm
Sun: Closed
Fill out this form and a member of our team will be in touch shortly. If you're in need of immediate assistance, please contact us directly at 303-776-3454.
Request an appointment online!